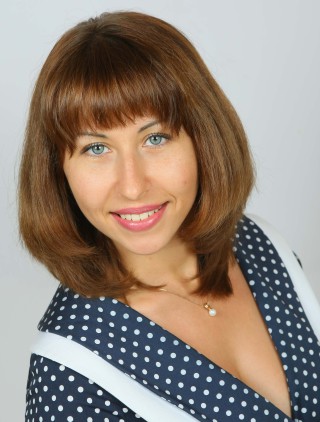 SEMCHENKO Kateryna Valentynivna – candidate of pharmaceutical sciences, associate professor of Department of Pharmaceutical Technology of Drugs.
Graduated with honours from the National Pharmaceutical University (2009), in which she works: master student (2009-2010), senior laboratory assistant (2009-2012), assistant (from 2012-2016), graduate student of the Department of Technology of Drugs (2010-2013), assistant professor of Department of Pharmaceutical Technology of Drugs (2016) of NUPh. Performed the duties of lecture laboratory assistant (2009-2011), assistant of the responsible person for work of the SSS (2011), the Secretary of the Department of Technology of Drug (2015-2016), responsible for the scientific activities of the Department of Pharmaceutical Technology of Drugs (since 2016).
In 2011, she was trained and successfully passed the English language exam at the University of Cambridge ESOL Examinations, having received the Certificate in Advanced English (level of English proficiency C1, Advanced), No. 0031343034.
In 2017, she passed advanced training courses at the University of Economics and Law "KROK" of the Ministry of Education and Science of Ukraine under the program "Information and Communication Technologies of Distance Learning: e-Tutor" for the development of a distance course (108 years).
In 2017, she trained at the Icahn School of Medicine at Mount Sinai online course "Healthcare IT Challenges and Opportunities" on the basis of the distance learning resource www.coursera.org, having received the appropriate certificate.
Educational and methodical work. Conducts laboratory classes, seminars and lectures on "Pharmaceutical technology of drugs" and "Biopharmaceutics" for native and foreign students, as well as for students of higher education in distance learning. She took part in the writing of practical "Справочные материалы для подготовки к лицензионному экзамену "КРОК-2" по аптечной технологии лекарств для студентов специальности "Фармация" and "Reference materials for preparation to the licensed examination "CROCK-2" on chemist's technology of drugs", "Guidelines to prepare for the final module control and state attestation on the discipline "Chemist's Technology of Drugs", workbooks "Workbook for chemist's technology of drugs" and "Workbook for practical training in chemist's technology of drugs with methodological recommendations" для студентов 3-5 курса, training manual "Електронний навчальний посібник з аптечної технології ліків для самостійної позааудиторної роботи студентів", monograph "Історія кафедри технології ліків Національного фармацевтичного університету"», collective monographs "Helminthiases of the digestive system: characteristics and prospects of creating new phytomedicines" and "Capsules: history and modern directions of development".
Supervises course projects of 3rd year students, diploma and master's degree thesis of 5th and 6th year students.
Research work. She defended the PhD thesis (2013) on "Створення комбінованих супозиторіїв для лікування простатитів" (supervisor – Professor T.G. Yarnykh). She is the author and co-author of more than 115 scientific works, including 7 guidelines, 3 monographs, 2 methodological recommendations, 4 information letters, 6 patents of Ukraine, more than 50 scientific articles (including in the scientometric Scopus database), more than 50 abstracts.
Currently conducts research on the development, study of properties and standardization of medicinal products and medicinal forms on the basis of plant and synthetic raw materials in accordance with the research work of the National University of Pharmacy «Розробка складу, технології та біофармацевтичні дослідження лікарських засобів на основі природної та синтетичної сировини» (№ державної реєстрації НДР: 0114U000945).
Social activity. Participates in the annual All Ukrainian competition-exhibition "Awakening of the spring", devoted to the Day March 8.