The Department of Pharmacy Technology of Drugs became ABSOLUTE WINNER in the nomination
"BEST CHAIR OF NFAU" in 2017-2018.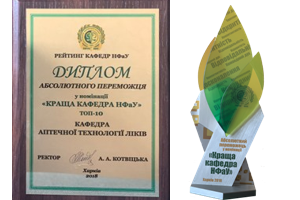 ---
Welcome!
We welcome You to the Web-page of the Drug Technology Department of National University of Pharmacy (Kharkiv).
Here you can find news from the life of the department, to get acquainted with the achievements and history, staff, research activities, academic work and more.
Head of Department – Doctor of Pharmacy, Professor Vyshnevska Liliia Ivanivna .